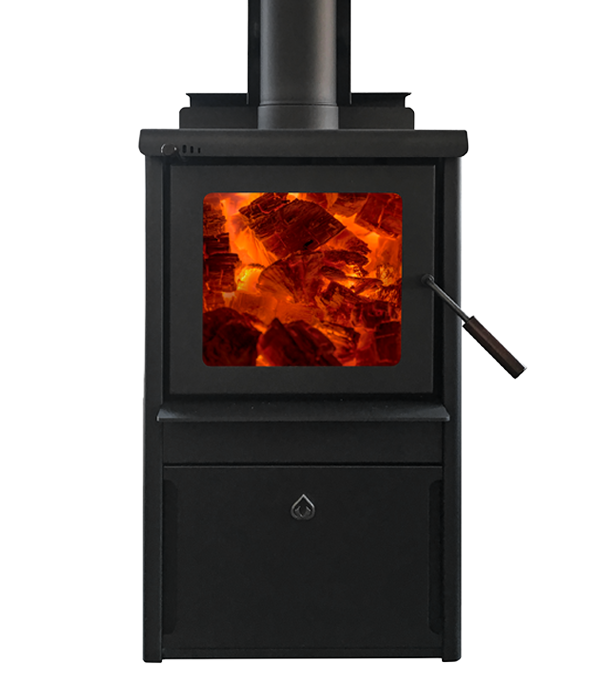 Woodsman SERENE ULEB – New 2019!
The Serene has been designed with the customer at the forefront of our thoughts. The "no mess ash scoop" is conveniently located in the Fire Safe Drawer. No more searching through the ash to find a plug or using messy ash shovels. Simply open the scoop and scoop up the ash then close the scoop and take outside to empty or leave it in its caddy until you are ready to empty it.
Under the Ash Scoop caddy you will find the Fire Safe Drawer. A tidy and convenient location for you to safely store matches, kindling, and newspaper.
Description
The best solution for any home where regulations permit the use of ULEB only…
– 16kW Maximum Output
– 15 Year Fire Box Warranty
– 2 Year Consumable Parts Warranty. (Baffle, Air Tubes and Fire Bricks).
– Ash Scoop. –Removing Ash has never been easier. Your Serene Log Burner includes a convenient "No Mess Ash Scoop" for Easy' Clean and Safe ash removal.
– Fire Safe draw for convenient "no mess" storage of kindling wood, matches and newspaper keeping the area around your fire cleaner.
– Solid 8mm Thick Cook top for ultimate durability
– Easy Tool less baffle removal system
– 50mm rear clearance makes replacing older burners easier (203mm flue centre)
– North South fire box orientation means logs wont roll out while reloading
– Dry Glass cleaners supplied with fire help keep your glass crystal clear
– Dimensions: H850mm(stove top) W500mm D620mm
– CM 1.6- Emissions 0.33g/kg -Efficiency 63.4% -28.68mg/MG