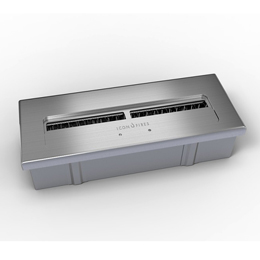 Icon Commercial Linear Burner – CLASSIC
Icon Fires introduces a new range of Flueless Bioethanol Linear Burners which enable the consumer to design their own unique fireplace or choose from the ready made options we can provide. An Architect's favourite choice, these bioethanol fires enhance any design that it is incorporated into. Manufactured in 4 and 6mm stainless steel they are considered to be amongst the best globally and will provide beautiful heat many years after installation. We offer 2 ranges of Linear Burners in Commercial and Slimline to ensure we have a product suited for any situation. Bioethanol burns clean and is environmentally friendly. It produces no harmful gasses only water vapour and very small amounts of Co2. The flame is natural and soothing providing a gentle heat and ambiance.
The Commercial Burner collection by Icon Fires offer the user the ability to create their own unique fireplace. The Commercial collection was designed to accommodate both commercial and domestic installations creating an impressive heat output. They are vent free which allows you to place them in areas previously not possible with wood or gas fireplaces. The Commercial bioethanol burner collection has 2 size options. Be creative and design the fireplace you have always wanted.
Description
SPECIFICATIONS
MODEL NUMBER: IFMB614
Dimensions (HxWxD): 118mm x 614mm x 244mcm
Cut out dimensions (HxWxD): 130mm x 590mm x 230mm
Material: 3mm & 6mm Brushed Stainless Steel
Capacity: 7L
Heating capacity: up to 70 square meters*
Burn Time: Up to 10 hours*