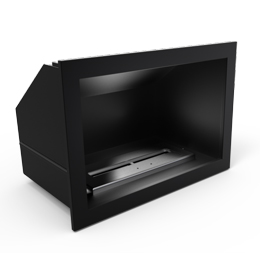 Icon Bioethanol Commercial Firebox – CLASSIC
The Icon Fires range of Fireboxes enables you to create your own inbuilt wall mounted bioethanol fireplace. The boxes are zero clearance enable easy installation requiring NO flue. These units can be installed into an existing fireplace or enable you to create your own wall feature. The Fireboxes come complete with their own accompanying Linear burner which as been designed to maximise the heat and fire ambiance. The Icon Fireboxes can in a Commercial and Slimline range offering designs to suit any situation. Available in 3 Fascia options there is a model suited to you.
The Icon Commercial Range for Fireboxes is designed to maximise the heat quality of the Linear Burner. Designed to encourage convection as well as ambient heat this range of product provides excellent heat. The Commercial Range come in 2 sizes and 3 Fascia colours.
Description
SPECIFICATIONS
MODEL NUMBER: IF047 and IF065
Dimensions (HxWxD): 600 mm x 900mm x 486mm
Material: Mild Steel Painted with Facia Option
Fascia Options: Black / Brushed Stainless Steel
COMPLETE WITH SLIMLINE BURNER IFMB614
Capacity: 7L
Burn Time: Up to 10 hours*